SLUDGE REPORT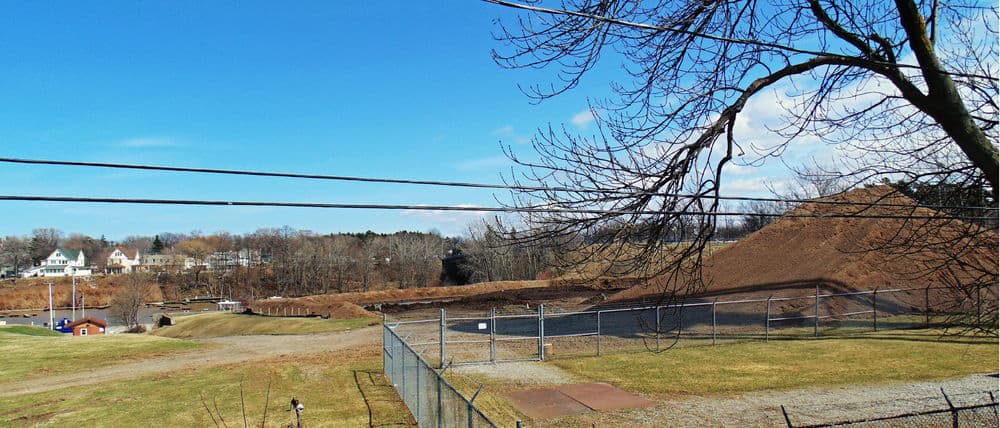 If you do plan on doing that spring king fishing in Olcott , there may be a few things you need to know. If you usually park your boat trailer or car in the overlook parking, you may want to find an alternate location to park. A dredging operation gone bad has made quite a mess of the upper parking area and it isnít recommended to park there. Currently there are a few boat trailers who found room. There isn't really much room left to park there. There may be some room if they double stack on the north side of the parking lot.
The majority of people who park their trailers and vehicles there will find some difficulty. If you do go up there, watch what you step in. I would not recommend stepping in the black sludge that got scattered about all over the ground. Even though they say it is just pesticides in the landfill and it is nothing more than any other landfill in the United States ; I personally would not touch the stuff.
Apparently there is going to be some work being done on the pit, sort of a relocation project. I gather they are going to take the dredged sludge and move it to the compost plant. They haven't been able to touch the stuff because it's just too wet. When they put it in there in the first place, it was direct from harbor to ground. No dewatering of the sludge made it quite a mess.
It is quite unsightly, not the place to take family pics when you arrive in town. Apparently they are moving the sludge so so they will already have a hole dug in case they ever have to dredge again. I'm not even going to go there with that one.
Let's just say, living and running a business next to a landfill that is toxic in my eyes - totally changed my outlook. I'm bittersweet. Nobody ever told us about it. Not one resident here knew what was going to happen. They just did it. I'd like to think of all of it as a big nightmare, but this is reality. Shame on the politicians that put this thing at the biggest tourism draw in our community. It's still a great little town and going to be a lot better once the sludge finds a new home!